The Story of Joe Zito
People ask, "How did Jozito get its name?"
Business names for one-person organization's are tricky, especially when the business is still new and agile.
Bob Merberg, Jozito's founder and principal consultant, shares this:
"I didn't just want to adopt my own name as the business name, as some people do. And "Health-This" or "Wellness-Solutions-That" seemed stale and limiting. When I thought about what's important in employee wellbeing, I was reminded of an inspirational figure from the story of the Triangle Factory fire. If you don't recall learning about this historic event from 1911 — the deadliest and most traumatic workplace disaster in New York City prior to the destruction of the World Trade Center on September 11, 2001 — read more about it in my blog post.
"One of the heroes of the Triangle Factory fire was twenty-something elevator operator, Joseph Zito, who risked his life repeatedly as he returned to the fiery floors of the Triangle Factory to shuttle panicked workers, mostly young women, to safety. Horrifically, many of the workers Mr. Zito couldn't help ultimately leaped into the elevator shaft or out one of the 10th story windows.
"Mr. Zito was a selfless American hero who saved more than a hundred lives that day."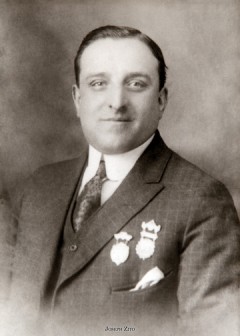 Listen to a 60-second recording of Joseph Zito's great-great-grandson retelling the story:

Jozito: "Something Different"
Bob explains: "For most people, Jozito will simply be a name that sparks a fleeting moment of curiosity and, I hope, stands out as something different.
"For me, it's a personal homage to a hero who shouldn't be forgotten, and it's a reminder of a historic milestone that fortified America's commitment — especially my own — to employee wellbeing."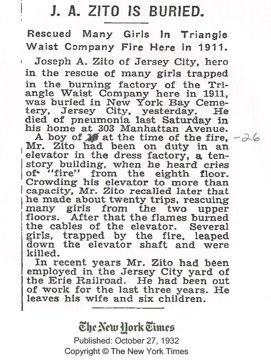 As one official noted in the wake of the fire:
Health is the principal asset of the working man and the working woman.
And as another stated in a commemoration 100 years later:
We must always be a nation that catches workers before they fall.
Get the Stories that Shape and Reflect Our Working Lives
(biweekly in your inbox)